Team
Founders Sebastian Sauer and Niclas Ott jointly manage the family business from Bendorf in Rhineland-Palatinate. Hans-Günter Sauer is responsible for logistics and accounting and leads the team on site.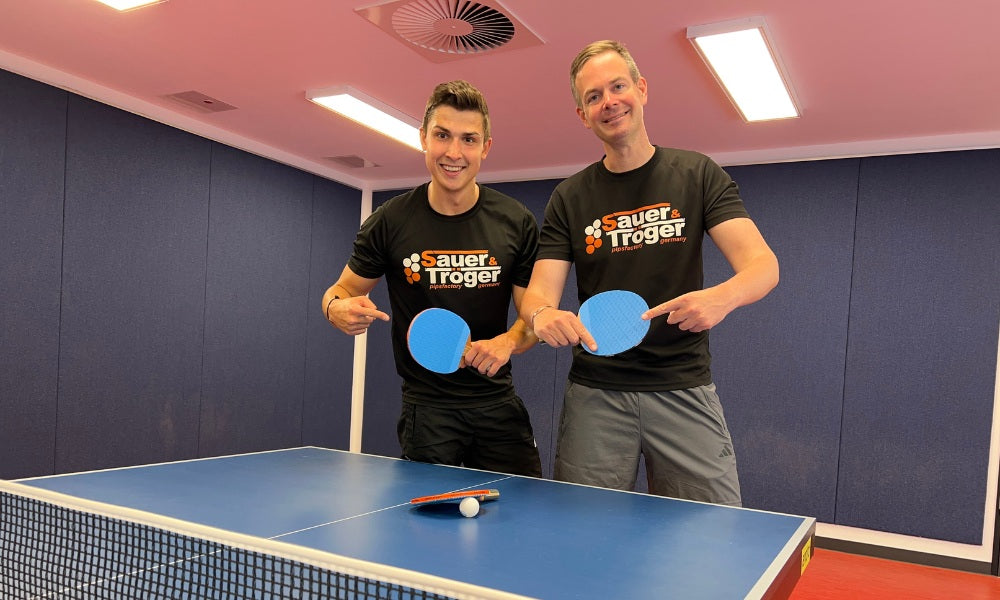 Story
The table tennis brand Sauer & Tröger stands for products with extraordinary playing characteristics. The focus is on the needs of material players. With our know-how we can provide you with the best possible products for a more successful game. Today, the company managed by Sebastian Sauer is one of the leading international manufacturers in the materials sector. Within a few years, the brand has firmly established itself and is now an integral part of the table tennis map. It is appreciated by thousands of players around the globe. In the meantime, a large three-digit number of dealers (and the trend is increasing) all over Europe and on all continents are selling the products of the table tennis brand. The company is based in Bendorf in Rhineland-Palatinate (Germany).
The table tennis brand was founded by Sebastian Sauer and Pascal Tröger, Germany's undisputed long-pimple players close to the table. In 2007, Sebastian Sauer began conducting courses for material players throughout Europe and helping them to further develop their gaming system. So far, thousands of participants have gone through his courses and he was able to get a very detailed impression of the needs, opinions and preferences of the material players.
Pascal Tröger started in May 2008 as a commercial employee at Contra Sport GmbH, one of the leading table tennis mail order companies in Europe. A large part of his work in this profession was devoted to advising material players and so he too was able to get a very good impression of what the needs, opinions and preferences of his customers are. He was also able to gain an insight into the processes involved in developing table tennis rubbers from various suppliers.
In 2008 the ITTF enforced the ban on smooth pimples. This forced both Sebastian Sauer and Pascal Tröger to look for alternative surfaces. This search turned out to be more than difficult. Both were able to largely preserve their level of play; however, they were not completely satisfied with the rubbers that were available on the market. In 2010, Sebastian Sauer had the idea of ​​developing a long pimple rubber on his own and then selling it. When he told Pascal Tröger about his plans, the two of them realized: If you can combine the experience of both players and the respective know-how that both had acquired, you have the chance to develop a really sensational long pimple rubber , which inspires the players even after the smooth pimple ban.
Both of them quickly started looking for a qualified supplier who would be able to help with the implementation of this project. After some time, a well-known manufacturer of rubber and plastic products was found who was won over by their concept.
Since 2015, the company has been managed by Sebastian Sauer alone.
Niclas Ott has been the new shareholder of the company since October 2020. Niclas is a former table tennis regional league player who, thanks to his business administration training, should continue to drive forward the expansion of the company, as well as the development of structures and processes. Sebastian and Niclas got to know each other through their time together as table tennis players at SV Windhagen.
We will continue to conduct intensive research and development in the future in order to continue to provide you with products with exceptional playing characteristics.
Sauer & Tröger now has over 300 partner shops worldwide and sells its products in more than 50 countries.
Greetings to all table tennis and pimples friends
Sebastian Sauer & Niclas Ott